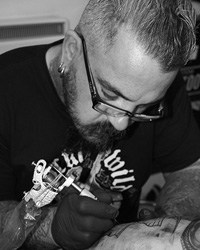 Sam Boyce
Sam Boyce opened Timeless Ink Tattoo Studio in 2006 after 12 years tattooing in Germany at Kevin Heaths Exclusive Tattoos in Heilbronn.
Sam loves tattooing and combined with well over 25 years as a tattoo artist has established Timeless Ink Tattoo Studio as one of the UK's finest!
All styles of tattooing are done at the studio, Sam has a reputation for bright solid colour and super clean line work second to none, and Custom work is his speciality! Call the studio for information.